It's always exciting stuff when I'm back on IC's campus. Even though I live less than a mile away, a visit to Park always makes me take a moment and be proud of my time there and what I've accomplished in the 6 years since I left.
I was extra excited to be asked to come photograph the first year of what I'm sure will be a long and celebrated tradition of hosting a special sendoff for the Park seniors the night before graduation. Folks gathered around the popcorn machine and watched the fireworks, mingled with staff and faculty (plus special guest Bill D'Elia, slated as the commencement speaker the next morning). Double win for me too… Park also rented Remembox, and we set it up on the wide open patio with a unique background of a spot-lit "Park School of Communications" archway as the backdrop.
Technical note: I came across a unique challenge… I try to avoid using the flash on my camera whenever possible. But this was nighttime, and while I had some nice glass I knew I still needed some extra light. When I do use my flash, I usually bounce it off the ceiling… but without a ceiling, what to do? I rigged up a BALLOON to the top of my flash which worked out to be an excellent tool to bounce and diffuse the light, with my flash pointing straight up the whole night. You can see me creeping with my balloon rig in the background of this GIF of my goofball husband.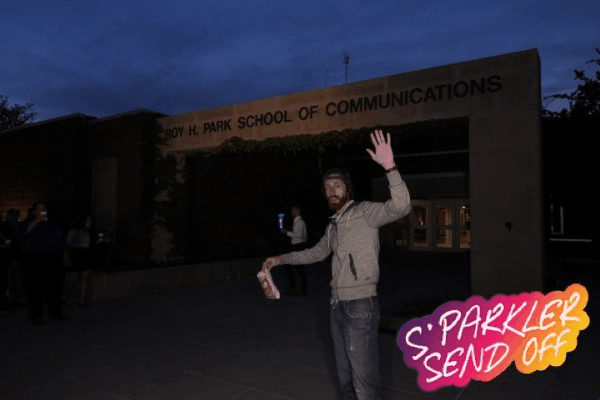 Check out more from the photo booth at remembox.co/sparkler!