As a storyteller, I'm drawn to books as a medium… albums can be a really elegant home for the story of your day. I'll guide you through the album design process from start to finish. I pass on the prices of the books at cost from the production company, plus a $250 design fee. The book cost varies based on size, number of spreads, and cover preference, but generally ranges from $250 to $700. I also offer parent or companion albums, which are smaller versions of your main album with a similar design at a lower price point. To begin your album design process, let me know you're interested and we can start the conversation to begin the draft of your design.
Album Options
Unless you prefer something else, my standard album design is a 9×12″ vertical layout with 20mil. lay-flat pages and a matte finish. I will give you a quote for basic matte paper and a waterproof (lifeproof!) coated matte finish. While it's significantly more expensive, I think it's worth it… it means you won't be afraid to flip through your album over and over again!
Cover style 1 – Messsenger
A seamless, wrap-around, full-grain leather cover with a tie closure. You can choose to pay addition for embossing, pictured to the right. This is my absolute favorite album style.

Cover style 2 – Traditional wrap
With or without a cameo photo, this is the more traditional option, and offers a lot of choices in cover material.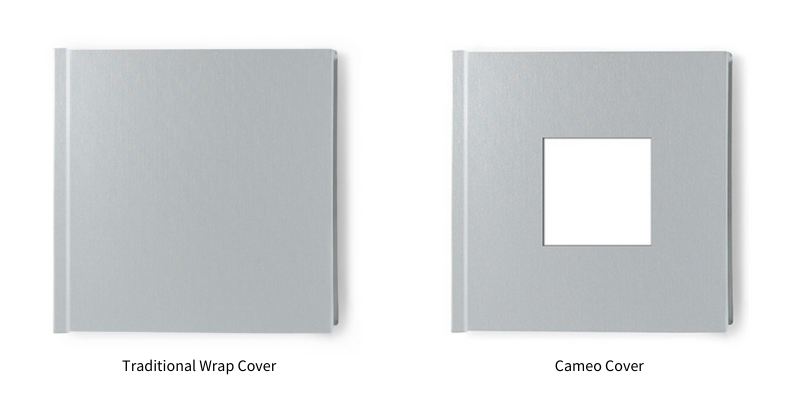 When ordering a wrap cover book, I also suggest a slipcase, which is a rigid box that matches your album cover choice for smooth album storage. Slipcases are not available with the messenger-style cover.
You can browse available cover materials here.
Album Design Process
The album design process can take 2-4 weeks, and production and shipping generally takes and additional 2-4 weeks.
Start by selecting between 30 and 100 favorites that you'd like included in the album. Smaller albums are less expensive, but bigger albums contain more, of course! If you have any super-favorites that you'd like featured as a full page or spread, let me know that too! Then, let me know when you have your selects, and I'll start with a basic layout concept for a 9×12″ book, unless you prefer a different size.
I'll send you layout proofs and pricing options for that layout. If you have any feedback or revision suggestions, we go through the motions of revisions, and then we get the book sent to production! Upon your approval of the proofs, I'll send you an invoice for your album (including the $250 design fee), which can be paid online. It takes up to a week for me to get your final proofs translated into a production-ready file, then I'll let you know when it's been sent to the printer.
Companion Albums
Once your main album design is complete, companion albums (also known as parent albums) are available. These are scaled-down versions of your album design at smaller sizes at a discounted price.
Examples
Dan & Allison – A 9×12 wedding album with coated matte pages, "Bubble Gum Sprinkles" book cloth cover, and copper debossing, plus a 4×5 companion album with matte pages in "Asahi Soft Blue Gold" book cloth cover with gold debossing.