"I was worried because I didn't want a lot of 'traditional' or posed pictures, but I also didn't know how to express what I wanted. Your portfolio showed how you crafted each event into a story and that was exactly what I wanted."
Gosh, I love hearing things like that from couples. This note from Carol gives me warm fuzzy feels. Planning ahead is a huge part of my process, so I can feel like I know the day's plan like the back of my hand and stay unobtrusive during the actual wedding day. While I really encourage face-to-face meetings for planning sessions, that wasn't quite possible with Carol & Will… considering we were on opposite sides of the globe. But after quite a few Skype calls and many emails, I finally met them the afternoon before their wedding. They traveled from Hong Kong to be married in Ithaca where they met, and they did it right. Their Sage Chapel ceremony included a concert from the bell tower, with a gorgeous and festive Farmers' Market reception.
Carol's traditional ao dai was a beautiful representation of her Vietnamese heritage, and Will's pink pants just rocked. Their bubbly receiving line after the ceremony was so joyful… just look at these smiles, right?!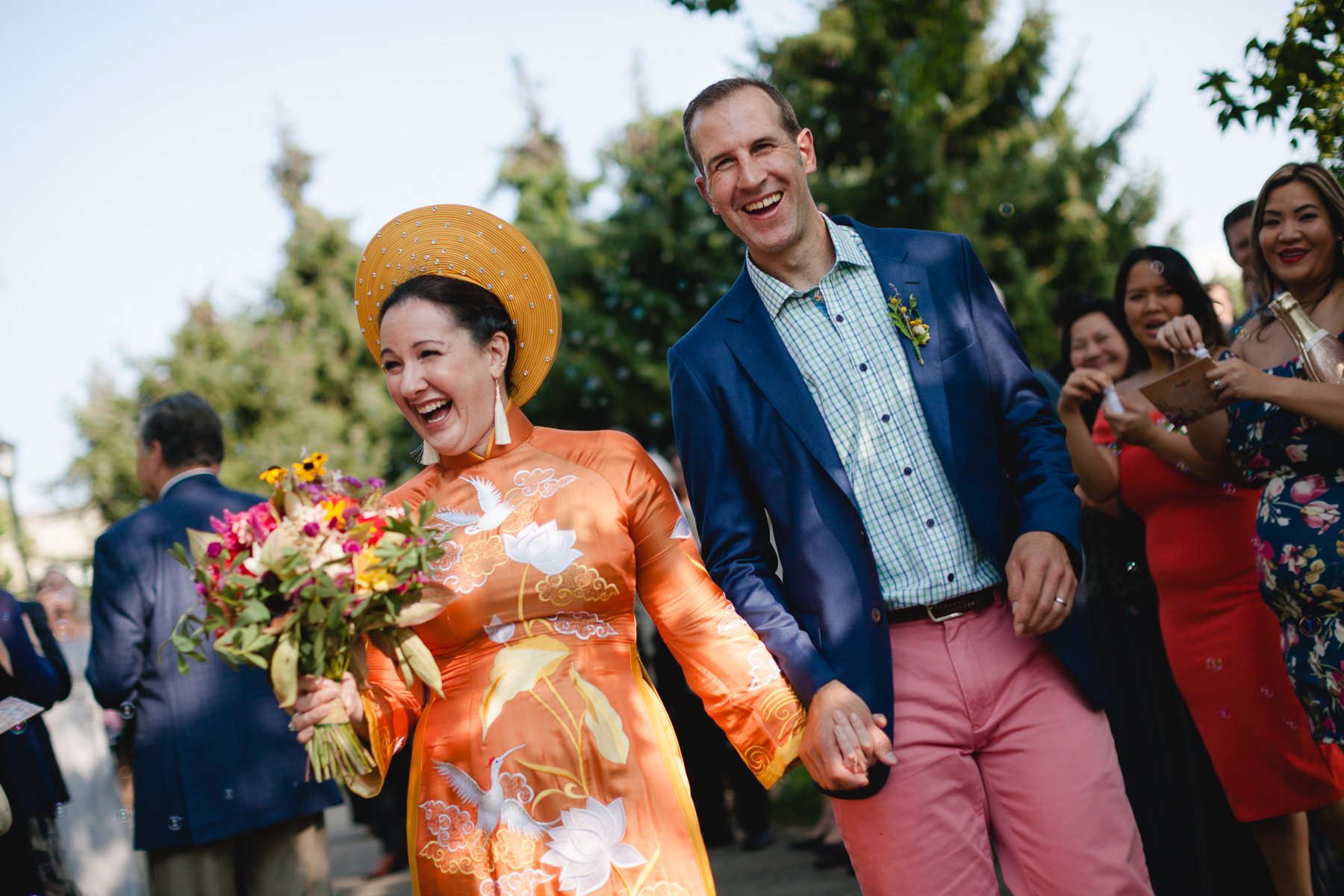 The Farmers Market reception featured a dragon performance, a 7-person swing band, lots of hang-out time on the dock, and chili pepper centerpieces. That joy that spilled out after the ceremony? it never faded, and the dance floor was bouncing with generations dancing together with the biggest smiles.
"You captured exactly what we wanted, including things that we didn't see ourselves. We loved seeing images of other family like our cousin dancing with his daughter, or the kids' reactions to the cake. Years from now we'll look at the images and experience the day, not just see dresses and color themes. I feel like all of the emotions were preserved along with the gorgeous day.You captured one of our cousins with a smile, which is amazing because he is very uncomfortable with unfamiliar people and crowds, but you managed to sweep in and sweep out with your camera before he had a chance to feel uncomfortable."
These vendors made Carol & Will's wedding a success: Janet Shortall (officiant) – David Coester (classical guitarist) – Blues Maneuver – Ithaca Farmers Market – Ithaca Bakery – Plenty of Posies
Final quote, I promise. But sometimes it's easier to let my clients write about their experiences than for me to do it 🙂
"I loved how you were able to communicate your suggestions and work with us to achieve the images. If you thought that something looked better from another angle, or something wasn't quite the right lighting, you had a quick suggestion to improve it or try something better. It made everything go smoothly with you having enough experience to guide the sessions while still achieving our goals."